Profile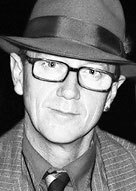 Based in Melbourne Australia, James Widdowson is a film director and photographer with a strong visual sense. James operates a flexible, multidisciplinary media production company that adopts a creative approach to film & video, photography and photo-digital illustration.
James is an ideas-man and story teller, experienced in advertising, corporate communications and branding. Along with directing and photography he is also a skilled Photoshop technician and post-production supervisor, a producer and a writer. A man of many talents, who's creativity, passion and easy-going professionalism will guarantee the successful outcome of your next communications project.
///div>

Brief career background:
2008 - 09 - Photography and post-photo-illustration for several print campaigns, including Goodyear and Beaurepaires. Production of a giant wall mural for the interior of an architects residence in Fitzroy, featuring Michelangelo's David.
2007 - 08 - Started a business called Monocles, to develop and produce a new product for wholesale and online sales along with a marketing campaign.
2006 - 07 - More tourism and events commercials, corporate DVDs and Photography. Returned to New Caledonia for another tourism shoot. Create Artland website.
2005 - 06 - Developed concept and scripts for an animated children's television series about food and play - called The Little Big Kids.
2002 – 05 – Advertising photography & TV commercials for New Caledonia Tourism, Isis Communications & Big Blue Broadband, along with many corporate videos and DVDs.
2002 - Major Photo-digital illustration commission for Docklands History Walk - a series of 12, 6x3 meter billboards installed around 2 national trust warehouses.
2001 – One year contract - Creative Director, Promo Producer and Photographer for "Alive" travel and learning satellite television network – based in Hong Kong.
1998 – 2001 - Directed and produced commercials for VicUrban (Lynbrook Estate, Roxburgh Park and Jacksons Hill), Melbourne Aquarium, Lend Lease, Deni Ute Muster.
1996 – Began directing commercials through Yarra Films (Australia). Clients included: Motorola, McCains, Lend Lease, Logicin, RazzaMataz & Lincraft.
1992 – Launched digital imaging studio - "Imagec" – adding significant control over image composition, colour and reproduction. Regular and successive campaigns for Mercedes Benz, BMW, Mazda, Pioneer, Ansett, Visa, Westpac… plus lots of photo-illustrations for 21.C magazine.
1987 – 92 – Continued shooting advertising campaigns but also completed successive fashion campaigns and catalogues for Myer/Grace Bros., Country Road, Just Jeans, Witchery, Maggie T, Venture, and Fletcher Jones.
1982 – 86 - Freelance photographer specialising in advertising campaigns. Major campaigns include Australia Post, BP (Quiet Achiever), Porsche & ANZ.
Contact Information
James Widdowson Photography Pty. Ltd.
also T/A James Widdowson Productions
Mobile: 0412 106 999
Studio: + 61 3 9696 7788
Email:
Post: PO Box 5036
South Melbourne VIC 3205
Australia
Address: 3/2 Yarra Street
South Melbourne VIC 3205
Australia
ABN: 48 006 624 139